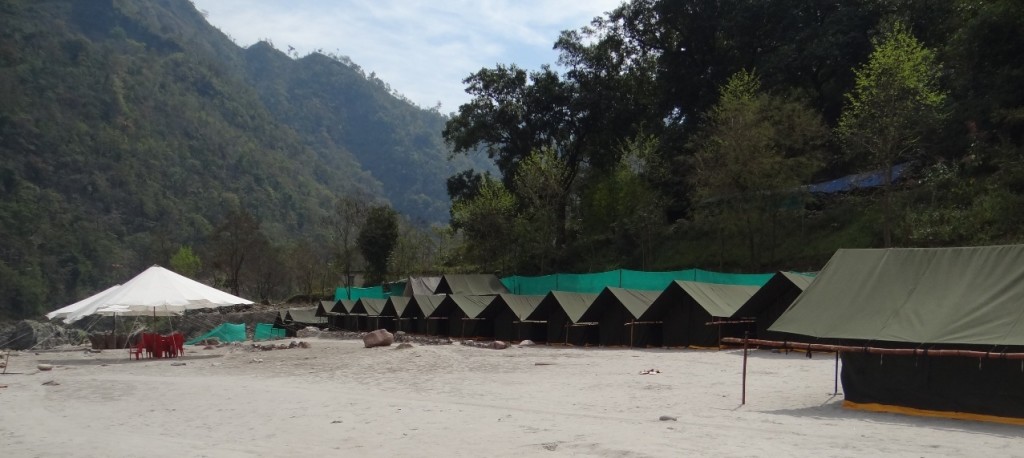 Accommodation and Prices- Depending on your budget you can define the kind of holiday you want at Rishikesh. There are 3 options to choose from – Beach Camps, Jungle Camps and Luxury Camps,Huts,Resorts. The facilities and style of accommodation varies and so does the prices.
Before you consider booking, go through the details and prices. It will help you make an informed decision and get the best experience and value for money services.
River Rafting Beach Camps :As you continue your way beyond Rishikesh over NH-58, you will be able to see a host of beach camps by the river side. Shivpuri is hub of River Rafting in Rishikesh, which is some 16 Kms beyond and offers a host of beach camping packages through various beach camps. The packages include 16 Kms rafting, meals, bonfire and games. Shivpuri, over the years has become much commercialized and hence one misses the beauty and charm of nature. The cost here is Rs1800/- pp.
The next region famous for beach camping and river rafting in Rishikesh is Marine Drive, which has some of the oldest and most beautiful private beaches across the river including Rafting Camps, where you can enjoy all activities with 27 Kms rafting and a host of excellent facilities and services with accommodation. The marine Drive Packages cost around Rs.2400/- PP
Beyond Marie Drive is Kaudiyala at 35 Kms from Rishikesh, where you can go for Professional grade rapids which will test your stamina, skills and promise wild thrills.The Kaudiyala Beach Camps Rafting Packages cost around Rs.3500/- PP.
NOTE: The beach camps have been closed w.e.f June 2015. The ban has been imposed by the Govt, and hence all the beach camps have moved from the river side, to some distance away from it.
RAFTING JUNGLE CAMPS: Rishikesh River Rafting Jungle camps are located inside jungle area, and here the accommodation is either tented space on twin sharing basis or built up cottages. These are situated at some distance from the river and most can be found around the road leading to Neelkanth Mahadev Temple. In some jungle camps you can find the facility of the Electricity.
Once popular for Trekking and Jungle excursions, the Jungle camps have in-time evolved and adapted to include River Rafting in Rishikesh in their packages to attract a larger audience seeking the thrills of rafting down the Ganges. The Jungle Camp packages start from Rs2200/- to Rs.3500/- PP on twin sharing basis.
1N/2D Camping and Rive Rafting packages
2N/3D Camping and Rive Rafting packages
RAFTING LUXURY CAMPS & RESORTS: Luxury river rafting camps are full of the modern day amenities like with including LCD TVs, air conditioning, a private balcony and more, the tents are made from latest technology weather proof material and are well ventilated. These camps are situated at various places around Rishikesh and cater to those seeking a quality lifestyle during their vacation. Besides good facilities these luxury camps boast of a range of Rafting packages for all needs.
There are many a Resorts around Rishikesh, which have come up in past few years offering may more add on to standard overnight packages such as massages, aroma therapy and reiki. One can expect accommodation luxuries like jacuzzi, swimming pool and top end services fit for young princes. The cost of booking these luxury camps and resorts starts at Rs5000/- PP till Rs10,000/- PP for a standard 1 Night and 2 Days package.
(Visited 22 times, 1 visits today)