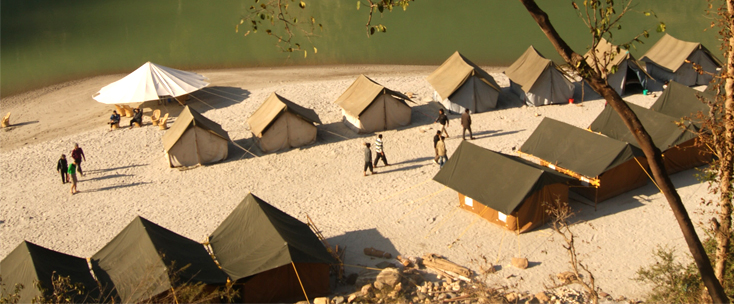 Alaknanda River Adventure Camps Rishikesh is Beach No. 21, Byasi (Rishikesh – Badrinath Highway, 31 kms beyond Rishikesh). The Alaknanda River Adventure Camp is located on the Rishikesh – Devprayag road (260 kilometers from Delhi/30 kilometers from Rishikesh; within 6 hours drive from Delhi) on the banks of the River Ganga, a downtown of Byasi. We have one of the biggest secluded sandy beach by the river Ganges. Our friendly staff is our main strength that never compromises on rendering quality.
Alaknanda River Adventure Camps Rishikesh – Facilities provided by us include 40 luxury safari tents along with dry pit toilet, bathroom tent, dining tent, parachute tent, etc. Everything that is required for a comfortable stay is duly provided at our end.
We offer white water rafting in the Ganges as well as Alaknanda River. In addition to the rafting adventures, our camp also offers various other rejuvenating and fun activities like beach volleyball, rappelling, hiking, kayaking, camp fire, hygienic mouth-watering food and so on.
Alaknanda River Adventure Camps Rishikesh – Activities
Owing to our rich experience and expertise, we have been successfully satiating the expectations of the adventurists. Our team updates the rafters with all the essential gears and goods they will require during the rafting expedition. We also make sure that every rafter undertakes requisite security measures. The Alaknanda River Adventure Camp not only aims at rendering an audacious rafting experience, but also ensures complete safety of the rafters.
Rock Climbing & Rappelling: One can enjoy rock climbing and rappelling at our camp itself. It's our plus point that we have the rock face in our camp only.
Beach Volleyball and Badminton: One can enjoy Beach Volleyball and Badminton at our campsite.
Kayaking: One can enjoy kayaking at our campsite with strict supervision of our expert guides.
Special Yoga Session: On request we can arrange special yoga session for your group.
(Visited 8 times, 1 visits today)