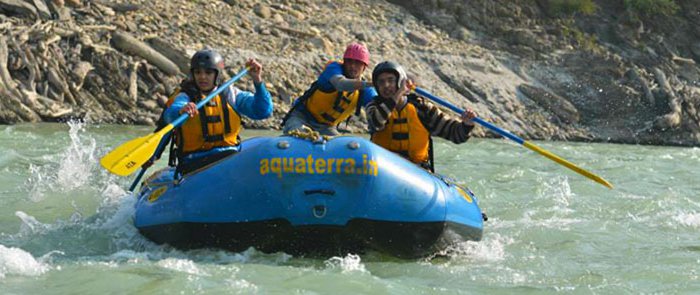 Aquaterra Adventures Camp Silver Sands Rishikesh – is located on the Devprayag road (256 kms from Delhi / 27 kms upstream from Rishikesh (5-6 hours driving time from Delhi) on the banks of the river Ganga, a sandy river beach and a portion of riverside forest. An excellent getaway from city stress – the tented river camp offers complete outdoor experience with white water rafting at its very best, camp games, solitude, campfire tales, kayaking, abseiling, good food and new found friends. And for the not so adventurous, a great holiday to put their feet up & relax, with a few lazy walks thrown in. For people with more time on their hands, we recommend self-contained, multi-day rafting expeditions on the tributaries of the holy Ganga, the Alaknanda and Kali rivers, both of which are possible within 6-9 days from Delhi.
The Team: Our trip leaders backed by years of experience are conscientious, aware of the needs and requirements of the group and, interact and communicate freely to provide better service leading to a complete outdoor experience. They are trained in First Aid, CPR, have years of outdoor guiding experience in the Himalaya, and sometimes beyond. We practise a very true form of eco-tourism, and are one of the few companies where over 95% of our guides and staff, belong to the Himalaya. You would be hard pressed to find an outfit that comes close to our standards of operation, our range of trips on offer, and the calibre of a world class team, which is our biggest asset.
Aquaterra Adventures Camp Silver Sands Rishikesh – Facilities
Water: On all our trips, water used is spring water (preferably, the first-use kinds) which is boiled and then treated with tincture of iodine.
Food: On our camps and expedition trips,meals served are buffet stlye – wholesome and delicious at camps (you WILL be surprised!) and easy to prepare on expedition trips. Most adventure travel trips travel on their stomachs – we make sure they travel very, very,well.
Toilets: On our camps, we have bio-toilets in use because of closeness to river and Reserved Forest Regulations. You however, do not have to squat – there are proper seats (like the ones you have at home!).The only difference is that you cannot use the flush. On our multi-day trips, the toilets are the great outdoors – each person has to dig a small hole and burn their toilet paper (it does burn quite well).
Packages:
Rapid weekend / weekday getaways rates per person (14 years and above)
1 day raft 1 night camp(1 raft trip, 3 meals, 1 night at Camp)
Rs. 3000
2 day raft 1 night camp
(2 raft trips, 5 meals, 1 night at camp)
Rs. 5900
2 day raft 2 night camp
(2 raft trips, 7 meals, 2 nights at camp)
Rs. 7250
3 day raft 2 night camp
(3 raft trips, 7 meals, 2 nights at camp
Rs. 7850

6 day Alaknanda blast,
(120 kms expedition style, 6 days 5 nts)
Rs. 25,000
The Ultimate Bhagirathi Blast (3 days 2 nts on non stop fun)
Rs. 11,000
Cost includes: tented accommodation on twin share, all meals, use of rafting equipment, professional guide fee, soft drinks.
Cost excludes : transport to camp and back, rafting transfers, expenses of a personal nature.
Aquaterra Adventures(India) Pvt. Ltd. : S-507, Ground Floor, Greater Kailash – II, New Delhi -110048 India
Ph: 91-11-29212641, 29212760, 41636101
Fax:91-1129212641
Info : info@aquaterra.in
Fay: fay@aquaterra.in
Vaibhav: vaibhav@aquaterra.in
Website: http://www.aquaterra.in