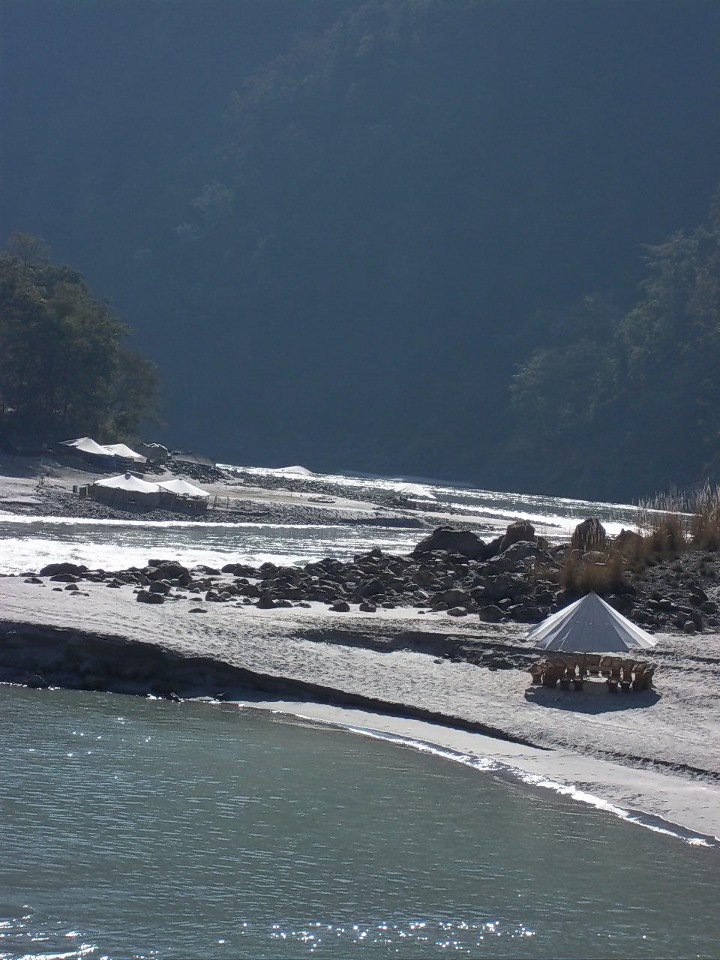 Please note – Beach camps were banned by govt. in June 2015. All beach camps along the Ganges river have been closed since.
As the name suggests Beach Camps are the ones on the beaches created by the River Ganges. Beyond Rishikesh there are regions which are quite well known for such beach camps. These Beach Camps offer River Rafting packages for various distances with stay, meals and other activities like Rock Climbing, Kayaking, Rippling, etc. The basic packages are for 1Night and 2Days, which are convenient for people taking a short weekend break from work.  Beach Camps offer bit more of nature over Jungle Camps in a sense that you have more open spaces plus a river flowing by gives much more space to walk around or relax. As holidays are more about experiences, we feel that Beach Camps offer more value over any other type of accommodation. Of course Swiss Tents are not the same as cottages or jungle huts, but you actually spend just a few hours sleeping, so it does not make sense shelling out more money just for a solid roof and a plug point. Swiss Camps do well in outdoors.
Beach Camping is not about luxuries, rather enjoying the abundance of nature without encroaching on environment. The beach camps use a small space for basic amenities like Kitchen, Store and Toilets. Before you book a camp check the location as its very important. Shivpuri is a congested overkill with dirt cheap rate and services where as large exclusive beach camps at Byasi, Marine Drive and Kundiyala offer quality and value for money offers for people who draw a line on professionalism and service quality.
The cost of booking a beach camp varies from 1800/- to 3500/- for a 1N/2D Package. Much depends on the camp ground space, activities, facilities and services. If you are planning to book a beach camp then you should consider Marine Drive as a good location.
(Visited 11 times, 1 visits today)