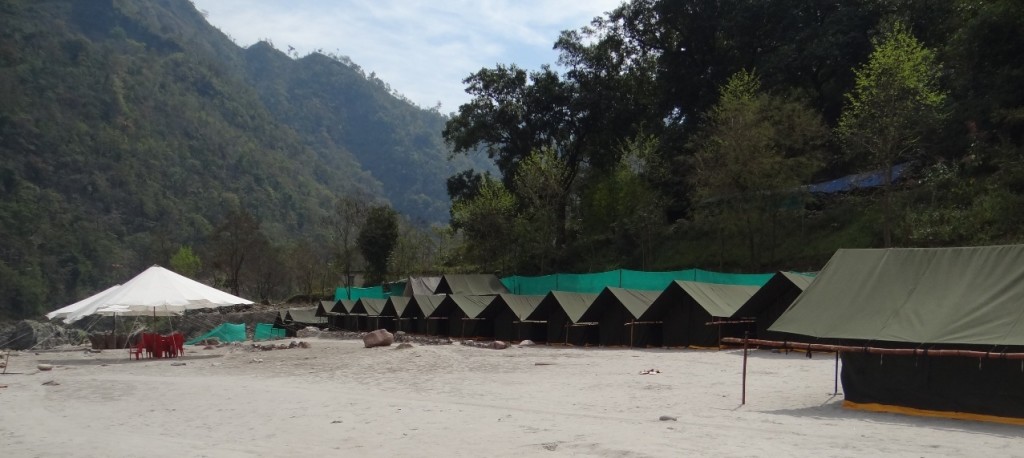 Beach Hideout Rishikesh – Beach Hideout is one of the largest and most exclusive private camping ground situated on the banks of Ganges. 24 Kms beyond Rishikesh on NH 58, on the other side of the river. For nature lovers it is a perfect weekend destination offering privacy, security, comfort and adventure activities making it ideal for youngsters, couples, families and large groups. At Beach Hideout we offer beach camping, river rafting packages with bonfire and meals along with a host of activities for a rich holiday experience. You can enjoy white water rafting, soak up the sun playing beach games, go for treks or challenge yourself to a session of rock-climbing with our expert licensed guides.
Location: Beach Hideout is located on the Rishikesh Devprayag road (270 kms from Delhi / 24 kms from Rishikesh; within 6 hours driving time from Delhi on the banks of the river Ganga, on a beautiful river beach across the River Ganges – a part of the river side forest considered to be unique getaway from stressful life.
Services: Beach Hideout offers Swiss Camps supporting eco norms. The camps offer a Great Outdoor Experience with white water rafting at its best, Beach Games, Beach Volley Ball, Trekking, Rock Climbing, Kayaking, Cliff Jumping, Rippling, Body Surfing, Bonfire and  fresh, hygienic and homely meals.
Packages: Beach Hideout has one of the largest camp ground with capacity to accommodate more than 100 people. The beach front is more than 400 feet, uncluttered and magnificent walkway with a great view. You can choose from  1N/2D, 2N/3D, 3N/4D packages which include stay in beach camps, 27 Kms river rafting, beach games, bonfire, meals and wide range of activities.People, not so adventurous can relax to the beautiful surroundings and enjoy the view. Relax and rejuvenate. Soak in the sun and play some beach games. For photography enthusiasts this place is an absolute heaven. If you like bird watching or photography, you can trek to the village above for some great shots.
Activities:
Meals:
Facilities:
Beach Hideout offers quality holidays for one and all. Besides weekend breaks, we organize Team Building Exercises for Corporates. Our enchanting beach can also be booked for celebrations, get to-gathers and weddings. Its a great place for school and college trips. For large groups we organize Yoga and meditation workshops at the camps. Explore the site and get to know more about us. We will be waiting to welcome you!
For Bookings Call + 91 9868006796
Email: info@beachhideout.in
Website: http://beachhideout.in
(Visited 15 times, 1 visits today)