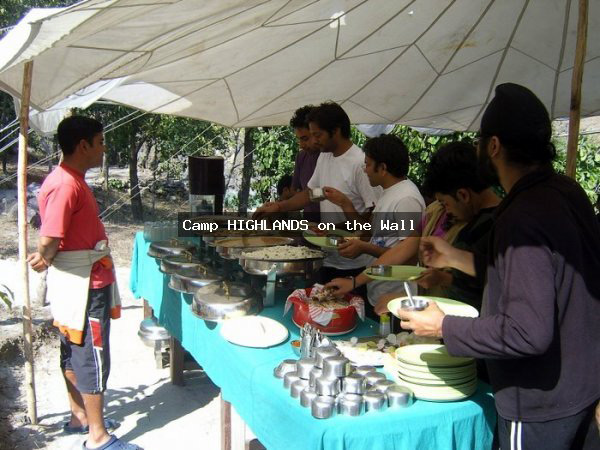 Camp Highlands Rishikesh – managed by GreatWhite Adventures, is located at one of the most exclusive sites on the banks of river Ganga, amidst the scenic beauty of a reserved forest area. Just 27 kms beyond Rishikesh and 15 kms beyond Shivpuri. Camp Highlands has a private beach and tents are pitched up on the sand overlooking the biggest rapid on the Ganges 'the Wall'.
Apart from rafting activities camp has a lot to offer. Indulge in a game of beach volleyball, or just take a dip in the holy waters of the Ganges. Take a hike to a Garhwal village. Dine in the open overlooking the river, or stay awake late gazing at stars. Camp has its own rappelling site.
Camp Highlands Rishikesh is suited for individuals, corporate, family, school and angling groups. We have a large patch of land adjacent to the camp to conduct team building activities.
Note: We do not have electricity at the camp and hence no heating or refrigeration. Camp is about 400 meters from the road head, . Approach to the camp is a good 10 min walk through the thick forest cover in a hilly terrain (downhill on arrival, uphill on departure). Participants are expected to carry their belongings themselves; so travel lite.
We strictly adhere to eco-guidelines of no bright lights, no loud music, meal timings and no campfires during the summer season.
Location: Approx. 27 kms from Rishikesh, next to the biggest rapid on Ganga 'The Wall'.
Season: October to May
Accommodation Types – We use safari tents with arrangements on twin share basis.
Kitchen & Mess Facilities – A fully equipped kitchen with a cooking staff which is experienced in outdoor kitchens. All meals are served here in buffet style.
Lavatory Facilities – Camp has both western flush as well as dry pit based environment friendly toilets. Basic facilities such as wash basins, bathrooms etc are also available.
Activities at the camp
Rafting – There are many sections one can choose from between Kaudiyala to Rishikesh (total 32 kms). The whole section is of III+ grading. Typically we give rafting from Camp to Rishikesh (27 kms) that also including the Wall rapid.
You will be covering the following rapids in this section. The Wall, Sweet 16, Good morning, Black money, Little investment, Three Blind Mice, Crossfire, Bodysurf, Return to Sender, Roller Coaster, Tee off, Golf Course, Club house, Cash flow, Initiation, Bodysurf, Double Trouble
Trekking – Camp Highlands has access to short hikes in the Rajaji National Park.
Rappelling – Camp Highlands has an exclusive rock face for rappelling. We possess in-house expertise of elite and qualified manpower that can provide a very safe and exciting experience.
For Bookings Camp Highlands Rishikesh Call: 0124 4144288, 9818656981
Website: http://greatwhite.in