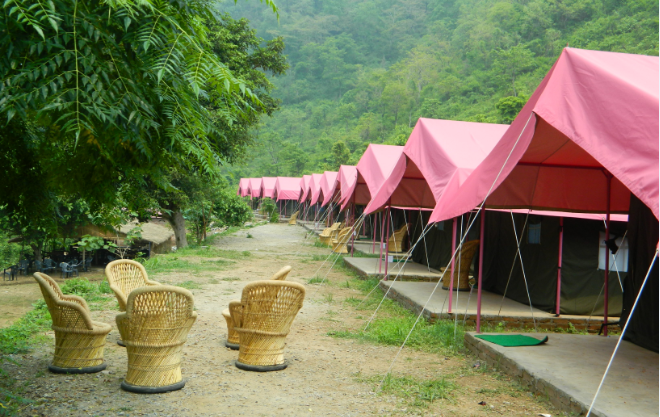 Camp Majestic Rishikesh is located just 29kms beyond Rishikesh City at Bayasi, on the Rishikesh – Badrinath Highway,nestled in the foothills of the Himalayan Mountains.Camp Majestic transports you to the splendor of nature, where cool mountain breezes and a scenic setting replace the complexities of city and suburban life. These Camping Facilities have all modern and contemporary amenities that are necessary to suit a stylish and deserving tourist. We offer a number of family-friendly events throughout the year at Camp Majestic Campground. Our Camp is open from October 1 to – June 15 each year, so you can join us during either season.
While designing our Camps, our designers and architects have taken utmost care to fulfill each and every single criterion of luxury and comfort. We have researched, experimented and formulated innovative ways to enhance the 'Satisfaction' quotient of our guests and it is our humble pride in announcing such an atmosphere & ambiance for every single visitor in our Camping Facilities.
Camp Majestic will impress you as soon as you arrive. From the first glimpse of our beautiful location covered by deep Sal forest, you'll know why our camp is the premier camping vacation destination for your family! You can enjoy games and activities like volleyball, cricket, badminton, jungle trekking, body surfing at Ganga River. With first-rate facilities and amazing nearby attractions, makes your camping experience excellent and memorable.
Camp Majestic Rishikesh – Activities:Camp Majestic provides various activities indoor and outdoor both. There we have a permanent Activity center loaded with all modern amenities and outdoor locations as well where one can go under the expert guidance and experience the thrill of accomplishing adventure activities for a lifetime.
There are in house yoga and meditation facilities where one can learn from experts and discover one's inner self in the laps of Mother Nature.
The list of various indoor and outdoor sports like volleyball, cricket, and badminton are bound to bring out the sportsman in you and make you feel at least five years younger. There are Bonfires lit at the romantic evenings with wonderful music being played at the backset where one can jive and shake a leg or two to the young spirit.
There are trained and experienced friendly guides who can guide you on activities like forest trekking and bird watching. There are a few more if you want to try your hand into- you may try valley crossing, rock climbing, and parallel rope and Burma Bridge if you think you should utilize the most of it. All of them can be done under expert supervision, because it is our motto to keep our guests happy and safe.
Camp Majestic Rishikesh – Activities Details :
Ground Sports activities : Volley Ball, Football, Bad-Minton and Cricket etc.
Indoor games : Cards, Chess, Tambola and Carom etc.
Adventure Sports Activities : Rock climbing, Rappelling, Valley crossing, Burma Bridge, Commando net, Parallel Rope, Zig-Zag, and Balance Beam.
Team Building Activities : Various numbers of Team Building Activities according to Group strength and interest.
Trekking
Bon Fire with light music
Forest Walk
Camp Majestic Rishikesh

Camp Address: Byasi, Rishikesh, 28km mile stone Byasi, Rishikesh – Badrinath Highway, Rishikesh, District : Pauri, Uttarakhand
Mob. +91 – 9540712002 (Mahiraj), 9540862003
E-mail: sales@campmajestic.com, campmajestic@gmail.com
Sales Office: New Delhi, O/92, New Mahavir Nagar, Opposite Kangra Niketan, Vikaspuri Outer Ring Road, New Delhi – 110018
Mob:+91- 8744043003 (Anrudh), 9540936006 (Himanshu)
Phone: +91- 11- 64676411(10am-7pm)
(Visited 6 times, 1 visits today)