Come and stay at Camp Paddler Zone. Conveniently located in Shivpuri on the banks of River Ganga, we can get you outfitted and rafting pronto! We have the largest beach camp in the area with enough beds to accommodate 150 people at one time. Here you can join other adventure enthusiasts in a game of beach volleyball or a simple game of cricket. Laze around the camp or soak in the safe and soothing waters of "downstream" adjacent to our camp.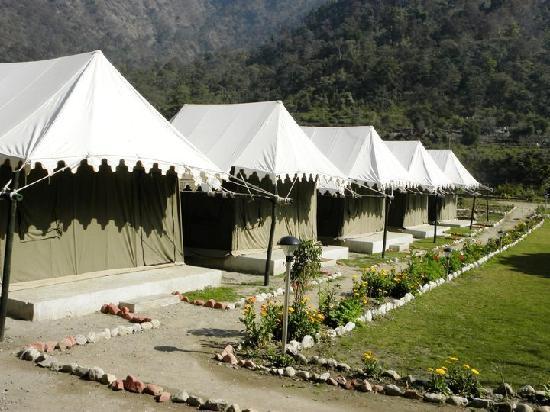 At Camp Paddler Zone we pride ourselves on our friendly and experienced team. We know you want a safe and memorable rafting adventure with the comfort of a private and secure river base. It's what we have been doing for 12 years. We thank guests that have rafted with us and invite those that haven't, to join us for a trip on the river. You won't regret it. We know rafting.
Camp Paddler Zone has 2 fully equipped river base camps on over 2 acres of land nestled in the foothills of the Himalayas on the banks of the mighty Ganges River. Both our camps have stunning views and our Shivpuri camp is situated on a large tract of white sandy beach. Our sites are fully equipped with spacious Swiss tents, eco-friendly flushing toilets and showers, change rooms and picnic area. Our parking lot allows rafters to drive right up to our camps to unload passengers and gear. The sweeping mountain and river views are the perfect backdrop for guests enjoying their hearty meals. Both our river rafting zones are conveniently located a short drive from Rishikesh. We are open for rafting and camping daily from late September until end of June and closed during monsoons from July to September.
Package: Spend 2 glorious days at Paddler Adventure Zone and raft 26km of the most exhilarating stretch of rapids on the Ganges from Marine Drive to Rishikesh over 2 days. Day 1, raft 10km from Marine Drive to Shivpuri and experience Black Money, Three Blind Mice, Crossfire, and Butterfly Body Surfing Rapid. You can get to know your fellow rafters while enjoying the spectacular scenery of the Ganges River Valley. Pull right into our River Base Camp and feast on a delicious hot lunch.
Day 2, it's on to the thrill of the rapids beyond Shivpuri with Return to Sender, Roller Coaster, Golf Course, Club House, and Tee off, Initiation, Double Trouble, and Hilton, body surfing and cliff jumping, finishing in the magical, mystical village of Ram Jhula!
Return to Paddler Adventure Zone for another delicious hot lunch. Guests also have the option to end their trip in Rishikesh instead of returning to Shivpuri.
Contact for package cost.
*Rafters must be a minimum 16 years of age and 90 lbs. Extra charges of 200 per person apply if transportation back to the river base is required at the rafting trip's end. Contact us if you need help with your travel arrangements.
Meals: We greet you with traditional Indian chai tea upon your arrival and a delicious hot lunch for our raft trips.* For overnight stays, we provide you with bed tea, evening snacks, and 3 hearty meals a day to give you the energy you need. Enjoy your meals at our private picnic area and challenge friends to a game of beach volleyball, cricket or enjoy a swim in downstream!
For Booking Camp Paddler Zone:
Call:9412054218, 9412054038,9412307384
Website: http://www.paddlerzone.com