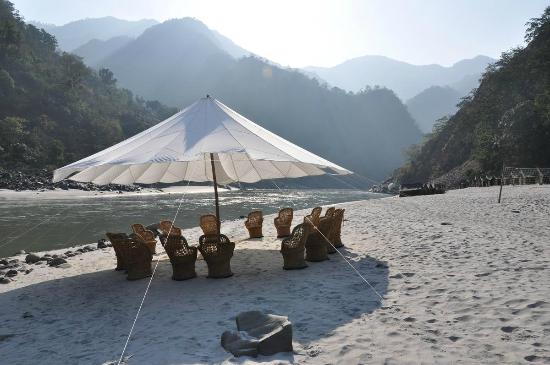 Camp Rapidfire Rishikesh is a unit of Questrails Adventure Pvt. Ltd. Camp RapidFire is situated on the banks of the mighty river Ganga. However as it passes by the camp, it is still the playful, impetuous child of the mountains, not the mature and steady giant of the plains.
Camp RapidFire is a river beach camp. Which means it is situated on a large tract of white sand on the river banks. Which of course means you can spend the day sunning yourself on the beach and fall asleep listening to the melodious lullaby of the river. Of course this stretch of the river with its playful rapids and mischievous eddies is also one of the most popular white water rafting stretches in the country.
There is no electricity. We prefer it like that, and so do our clients. As the sun sets the kerosene lanterns dot the stretch of the camp, each one an island of warm cheer. Many of our clients prefer not to use even flashlights outside the tents. The stars, resplendent in their isolation from interfering city lights are usually bright enough to see by on a clear night.
For Bookings please contact:
Questrails Adventure Pvt. Ltd. : 5 – L, Jungi House, Shahpur Jat, Asiad Village, New Delhi 110049
Call: + 91 11 41023461, +91 11 26498940, +91 9711400681, +91 9711400685
Email: info@questrails.com
Website: http://questrails.com