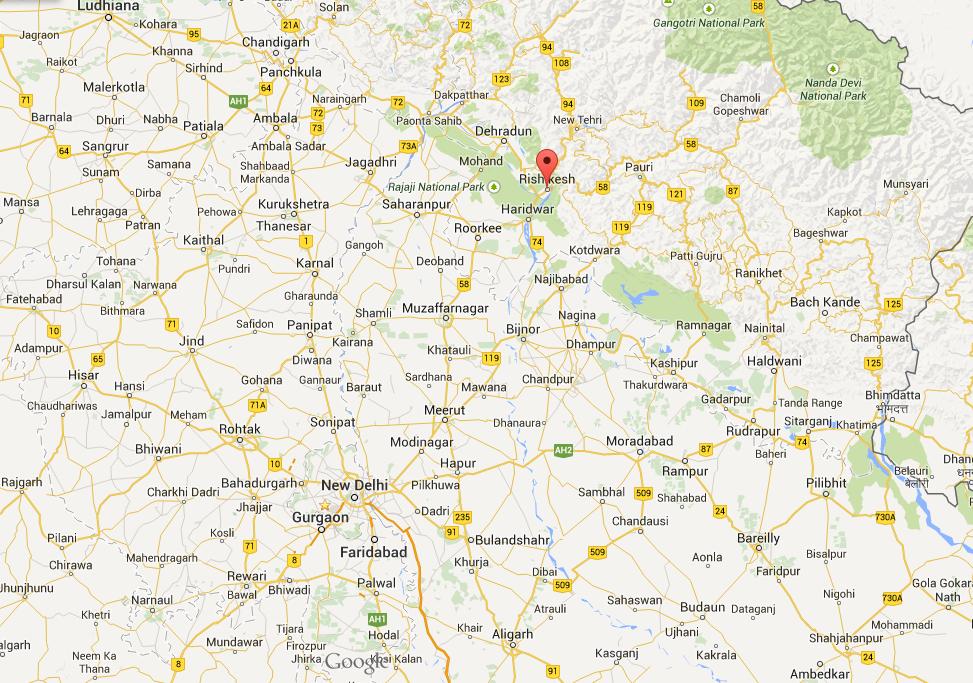 Travelers can reach Rishikesh by air route, road route or rail route. The town of Rishikesh has good connectivity with other key destinations of the state of Uttarakhand and outside.
REACHING BY AIR: If you prefer to travel by air, you will first need to fly to the Jolly Grant Airport, located at Dehradun. The airport is situated at a distance of just 18 km from Rishikesh. After you arrival at the airport, you can hire taxi services (cost around Rs 300) to reach the town. The closest international airport is located in Delhi – the Indira Gandhi International Airport (IGI), 224 km away. Delhi, being the capital city of India, is further quite well connected to all the key destinations in the country.
Indian Airlines and Air Deccan operate regular flight services connecting Dehradun (Jolly Grant Airport) to popular destinations like Delhi. From Dehradun Airport you can take a taxi to reach your destination in an hour or so.
REACHING BY BUS: By road route as well, Rishikesh remains well connected with all the key destinations in Uttarakhand and outside. There are regular public and private bus services available to and from Rishikesh to other important destinations.
If you are traveling from Delhi, you can take the following coaches to reach Rishikesh. There is round the clock bus service available from ISBT Kashmiri Gate and you can get instant tickets for buses keep plying every 30 minutes. Its better to start early in the morning to avid congestion points en route.
A/C coaches ( Rs 500 approx)
Non A/C coaches ( Rs 350 approx)
A/C Volvo semi sleeper coaches ( Rs 900 approx)
In all it will take 6-9 hours reaching Rishikesh – depending on when you start.
REACHING BY CAR: Its good to have the comfort and convenience of a private vehicle to make the best of a holiday, but there are few things to remember – the highway is only half done, so 100 kms beyond Delhi, the pace will be reduced to a crawl. If you start early, you can avoid the traffic nightmares at Modi Nagar, Meerut and Muzaffarnagar. You won't find CNG outside Delhi, so pack it full, to save on cost. Ensure a complete vehicle check and top up the oil and coolant. Don't forget tool kit, check on share tyre pressure and the first aid box. For a relaxed trip, hire a professional driver or a cab.

Start early and you will reach Rishikesh in 5-6 hours.
REACHING BY TRAIN: The town of Rishikesh in Uttarakhand is also easily accessible through rail route. By train, the town connects to popular destinations like Delhi, Dehradun, Mumbai, Kotdwar etc. Haridwar (25 kms) is another major rail head which connects to Rishikesh.
Morning Train: Shatabdi Express – (New Delhi to Haridwar) / (Haridwar to New Delhi)
Evening Train: Jan Shatabdi Express – (New Delhi to Haridwar) / (Haridwar to New Delhi)
Overnight Train: Mussoorie Express – (Old Delhi to Haridwar) / (Haridwar to Old Delhi)
From Haridwar Railway station you can walk into the bus stand ( just next to station) and catch a bus going towards Shivpuri.  Note: local bus services are closed in the evening till morning, so reach Rishikesh maximum by 3:00PM to get a local 21 seater bus to reach your destination.
If you are planning to reach Rishikesh from Jammu, you can catch the Hemkunt Express, which departs from Jammu Tawi and arrives in Rishikesh.
The train journey and further to Rishikesh and then to camps will take app 10-11 hrs in all. If you are a group of friends with a happy go lucky disposition – its a joyride.
Note: The cost of hiring private Taxi from Haridwar and Rishikesh is really high and its better to avoid it. So, if you are planning a visit with your beloved, family or elderly come by a private vehicle straight from your home. There is no point compromising on their comfort for a small amount.
(Visited 28 times, 1 visits today)