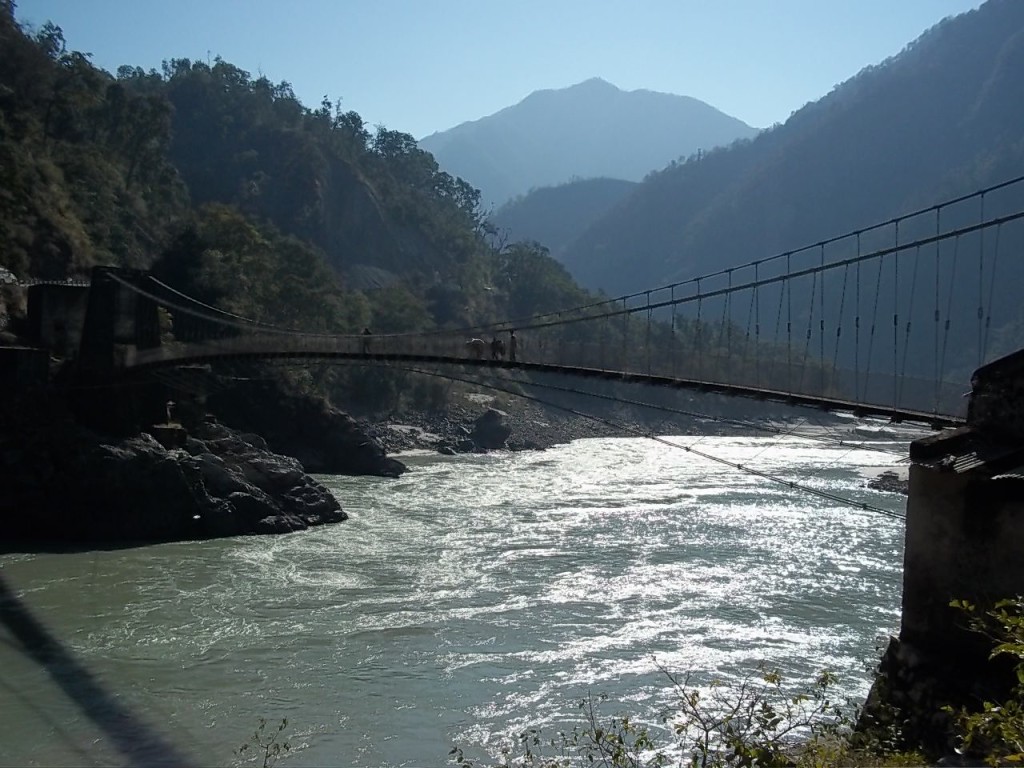 Short Trekking trips – 4-5 Hours from Laxman Jhula – A scenic, safe, affordable, independent outdoor day hiking or afternoon excursion. We drive you 10 Kms (30 minutes) from Rishikesh town to near to Shirashu Village or Gattu ghat and you can hike your own you can also hike to water fall and on average, it takes one hour to HIKE from the parking lot to the summit. This allows most people 30 minutes to walk around the mountain's top and photograph the great views fo Shivalik valley and Holy river Ganges. It takes about 45 minutes to descend. No guide is needed on this popular, easy to follow trail. These are good if you are staying in Rishikesh.
Neelkanth Trek: Nilkanth Mahadev is Temple of Lord Shiva located at a height of 1330 meters. This temple is 31 kms far from Rishikesh. The temple is very famous temple of Lord Shiva. Rishikesh to Nilkanth Mahadev is 14 kms trek. The whole way to temple is surrounded by dense forests. According to legends Neelkanth Mahadev Temple is the holy location where Lord Shiva consumed the poison which is originated during the sea churning when Gods and Demons churned the sea in order to obtain Nectar. Due to this poison Lord Shiva's throat became blue in color. So he is known as Nilkanth here. (literally meaning the blue throated one). For this trek it is better to just trek to reach temple. Later you can return to Rishikesh by car or local shared vehicles.
Water Falls Trek: Rishikesh is surrounded by Shivalik mountain range of Himalaya. Popular waterfall trekking in Rishikesh is Neer Gaddu waterfall trekking, Garud chatti waterfall trekking, Phool chatti waterfall trekking. Its take only a half day to trek in the waterfalls. These treks are famous for natural beauty. You can also enjoy bath at waterfall.
Jhilmil Gufa Trek: Jhilmil Gufa is a small 04 hour trek near the Nilkanth Mahadev Temple. Jhilmil Gufa is a small cave is located inside the forest. There is also small temple of lord Shiva. Few sadhus are living here. Only few people visit this place. Route is not very tough. It is also safe for senior citizens. This cave is 26 kms far from Rishikesh. From Rishikesh to Nilkanth Mahadev Temple you have to drive 04 kms more. From there you have to trek 02 hours to reach here.
Kunjapuri Trek: Kunjapuri Temple is 26 kms far from Rishikesh from where you'll find a dramatic mountain valley with sky-piercing granite cliffs, a swift glacial river, and waterfalls you can enjoy view of Haridwar, Rishikesh & Doon valley from here. Kunjapuri is at the height of 1650 meters. Temple is famous for it amazing view of shiwalik range of Himalaya. You can see snow capped mountains of Himalaya. Kunjapuri Trekking has 290 stairs so it requires 04 hours return journey.
For those who are passionate about trekking, we offer a wide range of Trekking tours in Garhawal Himalayas. Given below are trek names and description. The treks are managed by us, lead by our trek leader and our own support staff. Our expertise and experience ensures safety and convenience through out the trip. As all treks are customized to requirements and cost depends upon the number of people, we have not defined specific rates here. Please let us know your requirements and we will work the prices.
If you can't find something please let us know. We will get it for you.
(Visited 13 times, 1 visits today)